Custom Pergola And Arbors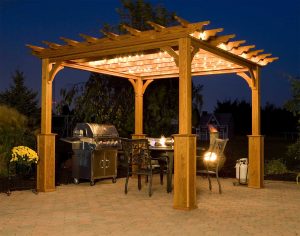 We are Fence Builders of Dallas with an expertise in creating magnificent custom arbors and pergolas to make your outdoor experience complete. Always using the best wood and building techniques, our professional team of builders will create an oasis in your back yard.  Adding a new pergola to your outdoor living space will not only enhance the beauty of your home, but can increase the value as well.  We offer a Free quote, and would love to stop by and to measure the area and discuss with you ideas you have for your new pergola.  You can go with a unique custom design or select from designs we already have drawn up.    We do offer affordable and highly competitive pricing to fit your budget.
What is the difference between an arbor and pergola?
Some folks ask us to explain the difference between an arbor and a patio pergola. While related, and sometimes used interchangeably, they are indeed differences between them. An arbor is an archway that incorporates a latticed trellis, often covered in vines from top to bottom. You walk through the arbor, which is reminiscent of a wedding procession. A patio pergola, by contrast, is often a square structure with a roof being held up on four sides by posts or beams, no trellis typically involved.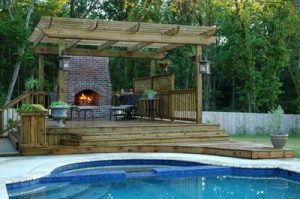 We will happily survey your yard or property and make custom suggestions, giving you all variety of options from which to choose. Some buyers only want an arbor; some only want their back patio covered by a patio pergola; others want a hybrid of the two, with the pergola arched like an arbor; and still others want a combination of both arbors and pergola with additional trellises erected flush against their backyard walls to provide a garden canopy experience. Beauty, and the right look and feel, are always in the eyes of the beholder who, to us, is you, the customer.
Arbors, pergolas and trellises all come in different types and kinds of wood or material. The best approach, of course, is to select something that fits organically into the existing environment and compliments the architecture of your home. Wooden beams, galvanized wires, rounded poles, native stone and even bricks all can be the right material for the right property. In the end, our hope is that the material you select will help us manifest for you a peaceful oasis to which you can escape and enjoy your day.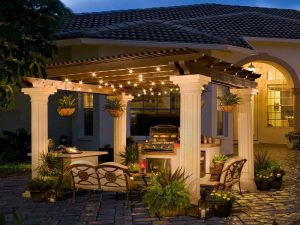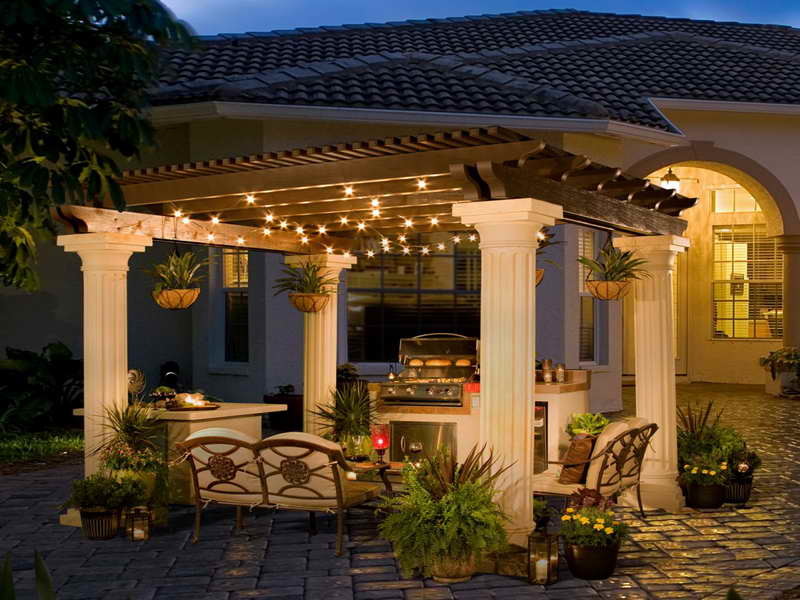 A variety of considerations go into the design of our patio pergola. Certain pergolas protect against hot sun, rains and winds better than others. But even if your pergola does none of these things well, it still provides shape and dimension to your backyard, thereby creating a contoured living space from which you can enjoy your afternoons and evenings without direct exposure to the elements. The merger of the outdoor feel with the sense of being inside is sometimes all you really need. Indeed, for just this reason, pergolas have been popular over history by in French gardens, Italian patios and English countryside cottages.
Satisfaction Guaranteed
We stand by our work with a 100% Satisfaction Guaranteed promise, as we always employ the best professional carpenters, the best materials (whether cedar or oak or something else), and most suitable designs for our customers. When we are finished, we want you to be as happy as we are with the result, such that you never want to go back inside again.
Call us today and we'll schedule a time to come by and provide you with a FREE quote.
We service the following cities in the Dallas – Fort Worth Metroplex:
Dallas, Addison, Allen, Carrollton, Celina, Coppell, Dallas, Fairview, Farmers Branch, Forney, Frisco, Ft. Worth, Garland, Heath, Highland Park, Prosper, Irving, Lewisville, Lucas, McKinney, Murphy, Parker, Plano, Prosper, Richardson, Rockwall, Rowlett, Sachse, The Colony, University Park, Wylie and Surrounding areas.
If you are not located in one of these cities listed above, we can still help you with your Pergola and Arbor needs.  Give us a call and we can work out the logistics and give you a quote.
Call Us Today!