New Fences & Custom Gates
Expert Dallas Fence Company, Specializing in Building, Staining & Repair of Fences, Gates, Decks and Pergolas
Go to Fences
Fences
We build top quality custom fences throughout the Dallas / Fort Worth metroplex, using the best materials. We install residential and commercial grade fences to meet your specifications.
Go to GATES
GATES
Premium custom gates will set your home and yard a step above the rest. Our unsurpassed quality and craftsmanship is an attribute that creates a unique and eye-catching appearance to compliment the architecture of your property.
Go to DECKS
DECKS
Installing the perfect wooden deck in your backyard can make your home and outdoor living space feel twice as big. Fence Builders of Dallas Can transform your backyard into a real living space great for entertaining.
Go to Pergolas
Pergolas
Escape the summer sun, and enjoy your patio with a custom built pergola. We build high quality pergolas that will create a stunning environment in your own backyard, excellent for entertaining and relaxing.
Dallas Fence Company
Building High Quality Beautiful Fences and Gates Throughout The Metroplex
Quality, Professional, Experienced. We Deliver. We Are Your Residential and Commercial Fencing Contractors. No Job Is Too Large or Small!
At Fence Builders Dallas, building, repairing, and staining fences, decks, custom gates, and pergolas is what we do best. If you are looking install a new fence in Dallas, TX area then you have found the right place. We have been voted the best fence and gate company in all of North Texas, by trusting and loyal customers that love the work we do.
If you need a new privacy fence built at your home in Plano, or if you need an beautiful automatic driveway gate built in Frisco, we are here to help. There is no area in the DFW Metroplex and beyond that we will not travel. So if you are concerned you are out of our service area, give us a call and we will come build your fence anyway. All of our employees are professional, top-notch builders and work hard, smart, and efficiently to provide you with the best looking fence in your neighborhood. You can rest assured that our team is the best in the fence business.
We have been in business building fences and offering the best fencing options in the Dallas / Fort Worth Metroplex for over 20 years. It doesn't matter if you want a side-by-side fence, board-on-board, or if you prefer ornamental fencing, there is no job too small or too large for our team. Our goal is to provide you with the best service, and a fence that will look better than your neighbors.
Not only do we build fences, but we are also a leader in fence repair. With the bad storms we experience in the Dallas area, sometimes you simply need to have your fence repaired and we are the guys to get the job done for you. We will never try to take advantage of a storm to build a new fence if you simply only need a repair. Call us today and we can give you a quote for repairing your fence.
Fence staining is also a specialty for us. With the hot Texas sun beating down on your fence, keeping your fence maintained is a must. Our crews can apply stain to your fence and help prolong the life of your fence. If you have questions we will be glad to discuss them with you at any time.
Please check out the other services we offer.
Need A New Fence? Speak With A Professional Now
Latest news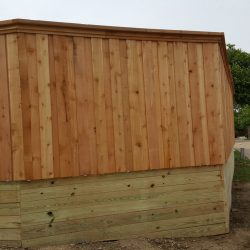 Need A New Fence? We are the top-rated new fence experts for all of North Texas, and consider ourselves the only Dallas Fence Company.   We use only the highest quality materials, and have the best prices you will find.   We can beat any fence company competitor price, and provide you with top quality Read more about Dallas Fence Company Best New Fences[…]
Previous
Next