Custom Gate Solutions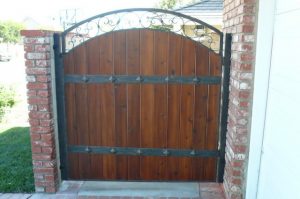 The gate on your fence is the main focal point of the entire fence structure. Having a custom gate will give your fence a unique appearance and character that will have all of the neighbors envious. Your gate must be strong, as it takes a lot more wear and tear compared to the rest of your fence, since it is used for entering and exiting your property. We build many types of custom gates ranging from flat-topped, and arched designs for fence gates, and for driveway gates we build sliding and swinging style gates. If you have other needs just let us know and we can build it for you. All of our gates and fences are built with the highest quality materials and are built to last and withstand years of constant use.
What type of gates do we build?
Wood gates – simple gates to provide access for your new fence, as well as custom wood gates to not only provide access, but to make your fence unique.
Garden gates – smaller gates for your pool or small enclosures.
Automatic driveway gates with electric gate openers – Sliding and Swinging gates with efficient designs.
We build both wood framed and steel framed gates. During the free quoting process we will make sure we understand your needs and the type of frame you will need for your gate. We build your gate using top-quality materials and your custom gate is built to last. You will not be replacing our gate after a couple of years like you would from some of the competition. If you choose a steel frame, you can rest assured that it is powder coated, and the wood will be the highest quality and treated. If you choose a wooden frame design the wooden frame will be the same top-quality treated wood as your fence. We can help you choose the gate that best fits your needs, and complements the style of your home.
Gate Designs:
Arched Gates
Bell Gates
Flat Top Gates
Estate Gates
Walk Gates
Column Caps
We are fence and gate specialists for the entire Dallas and Fort Worth area. We provide professional service and bring many years of experience to provide you with the highest quality fence and custom gates available. No matter the type of custom gate we build for you, our expertise and price can not be matched. We look forward to serving you, and enhancing the overall look of the outdoor living experience at your home.
We service the following cities in the Dallas – Fort Worth Metroplex:
Dallas, Addison, Allen, Carrollton, Celina, Coppell, Dallas, Fairview, Farmers Branch, Forney, Frisco, Ft. Worth, Garland, Heath, Highland Park, Prosper, Irving, Lewisville, Lucas, McKinney, Murphy, Parker, Plano, Prosper, Richardson, Rockwall, Rowlett, Sachse, The Colony, University Park, Wylie and Surrounding areas.
If you are not located in one of these cities listed above, we can still help you with your fence and gate needs.  Give us a call and we can work out the logistics and give you a quote.
Call Us Today!
If you have been a previous customer please rate our service below.